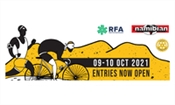 Cycle Classic Namibia 2021

Registrations close on 6 October 12:00 midday.
EFT payment option closes on 5 October 8:00.
For Running: Registrations close 4 October.
All riders must collect their race number before the event.Collection of race numbers for MTB and Road Race: Friday 8 Oct 2021 16:00-18:30 at SKW.
For more information, routes, t&c, etc. please check Cycle Classic Namibia's Facebook page. Inquiries: Pierre du Plooy 081 316 2345
Tickets are non-refundable and non-transferable. Should the event need to be postponed, tickets remain valid for the new date.
Cycle Classic Namibia is an annual fundraiser for Rotary Club Namibia.
T&C apply.